Biodiversity Net Gain doesn't have to be exclusively complex habitats and vast planting schemes – there are ways to include a net gain for biodiversity in areas of your development that are used as amenity areas, such as playing fields or meadows for dog walkers etc. Below, we go through some ways of achieving this; ultimately ensuring that you development will achieve a net gain for biodiversity and impress the local planning body.
Amenity Grassland

Many amenity landscaping areas (such as gardens and communal grassland areas) for sites could contribute to biodiversity. These grass areas can be sown with a seed mix that has a similar species assemblage as an Emorsgate EG22c seed mix, for example; a popular seed mixture for developers. This seed mixture is ideal for natural pathways and play areas, as it includes a mixture of wear tolerant native species and small-leaved white clover that will produce an aesthetic look, and are also ideal for pollinators (e.g. bees).
Rough Grassland

For an easy win, rough grasslands can be created at the border of any hedgerows, or perimeters on site (at least 1 m in width we would advise). Think of a rough grassland as an unmanaged area of grass and tall herb species (such as hogweed), which has developed a thick, sometimes tussocky appearance. You will often see this kind of grassland on the fringes of hedgerows, along quiet country walks throughout the UK; or as whole fields on UK farms on the Higher Level Stewardship scheme. This habitat is excellent for small mammals – they will carve out hamster-like runways and chambers within the thick matted area of the grassland base. This kind of habitat is prime Barn Owl hunting territory.
To optimise the habitat potential of the rough grassland, it is recommended that the litter layer (the previous year's growth which has collapsed and died back) is retained at a depth of approximately 7 cm give or take; mowing the grassland short will be avoided to allow for the matted litter layer to form. In doing so, the habitat is optimised for small mammals and reptiles.
Sustainable Urban Development Systems (SuDS

A SuDS pond for a development counts towards biodiversity net gain mitigation; even though it is part of the infrastructure of the site. This is great news if your plot doesn't already contain a pond, as this will bump your site up the rungs of the bio-net-gain calculator.
As well as providing water management and pollution control measures, the introduction of SuDS ponds will also contribute to providing a diverse range of habitats on site. They will provide foraging and breeding opportunities for a number of species, including a variety of mammal, reptile, bird, invertebrate and amphibian species. You can make your SuDS pond even more proficient by adding following recommendations:
The edges can be curved/meandered to increase the edge habitat of the pond (which is often the most valuable area for ecology);
The edges can be graded to a gentle slope to allow a mixture of vegetation to establish;
At least one section of the pond could be > 60 cm deep; and,
Avoid introduced fish or non-native species to become established.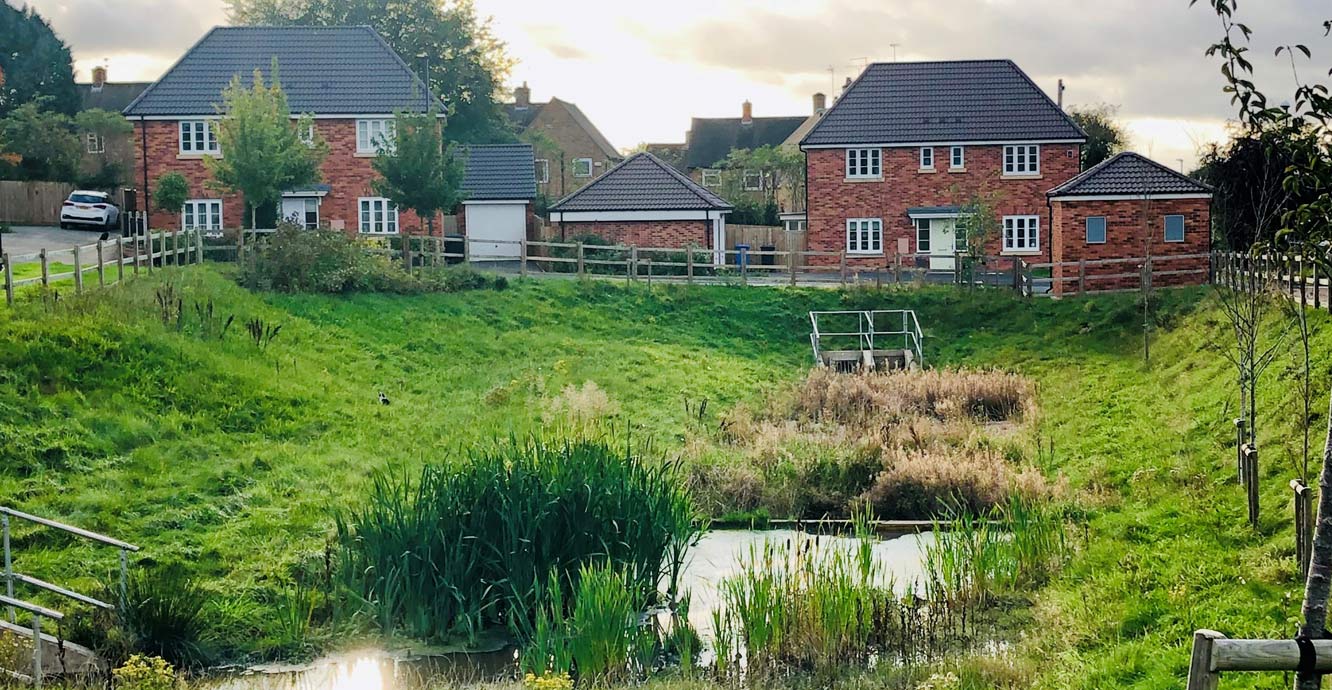 Wildflower Meadows

Wildflower meadows provide opportunities for a variety of animals, but have suffered severe declines in the UK. Therefore, areas that are planted and managed for wildflower species are a valuable addition to any site; and, come with big biodiversity net gain points. An ideal place for a wildflower meadow to be planted is around any SuDS ponds (at least 3-5 m from the pond edge). This is a much more aesthetic option that leaving the perimeter of ponds bare. For extra whack, the meadows could include night flowering plants, such as the night-flowering catchfly (Silene noctiflora). One popular seed mix for this kind of meadow is 'EM1'. Such a composition of plant species will increase the value of the site for invertebrates, which will additionally provide higher quality foraging habitat animals higher in the trophic levels, such as bats and birds. The meadows can then be managed to encourage a diverse sward of native wild flowers.